Page 3
From working the wedding circuit to planning their own, Shikha and Aayush's story will capture your heart!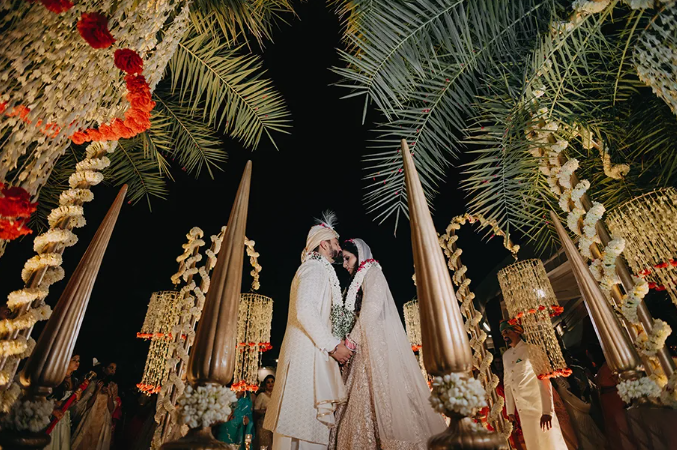 Courtesy by:-weddingsurta:-
Shikha Chauhan, Founder of award-winning wedding planning & management company Baraati Inc, tied the knot with long-term beau Aayush Kumar, Emcee & Founder of @Plan My Show in an exquisite farmhouse wedding in Delhi NCR. Planned and executed to perfection by her own company WeddingSutra Favorite – Baraati Inc, the celebrations unfolded with striking decor, unique themes, and creative personal touches that are to make their way on to your Pinterest board!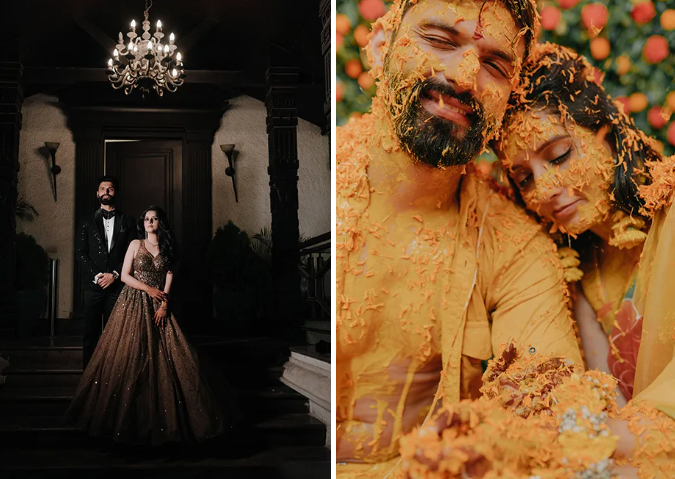 How they met
Shikha and Aaush's journey of 7 years and counting first began at a wedding. While Shikha was in charge of the planning and management of the affair, Aayush was handling the entertainment. The connection they sparked went on to fuel several professional projects, and somewhere in that whirlwind of Big Fat Indian weddings, they found love!
Shikha shares, "I always wanted a self-made man whose last name didn't matter. A hustler who could not only understand but also balance the workaholic in me, as I am a sucker for love and fairytales! And lo and behold, I discovered it all in Aayush! He lights up every place he walks into, and is someone I can always rely on. How could I not fall for him?"
Aayush adds, "The main reason I married her was simply that she accepted me for who I am and never expected me to change! She is the anchor I needed to balance my life out. From the moment we met, there was no filter or need for pretense, and I knew then and there that she was the woman I would marry one day. Over the years, she has proven to be the one who would be by my side through all the ups and downs of life. She is the best companion I could have asked for!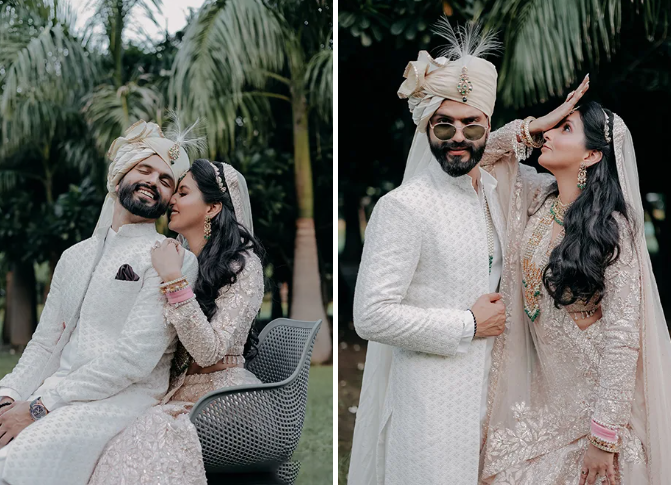 Wedding Planning
The couple envisioned an intimate celebration in a lush setting where they could let their creativity reign free and opted for the sprawling venues of Veda Farms and Banquets and Amaanta Farms for their Delhi wedding. The bride spearheaded the planning process working closely with her team at Baraati Inc to orchestrate the wedding of her dreams. The groom planned rousing entertainment for every function with his team at Plan My Show, and a plethora of artists from the industry who came together to celebrate the wedding of their dear friends. Having worked closely with the couple over the years, these talented DJs, singers, and other artists imbibed their performances with a whole lot of love, making the wedding unlike any other, and absolutely unforgettable for their guests. Their special moments were captured by Camlition Production.
For her wedding wardrobe, Shikha tempered her knowledge of the latest trends and designers with her own distinct personality to curate looks that were unapologetically her. She shares, "Having worked with so many brides, by the time it was my turn to be one, I knew exactly what I wanted to wear! If there is something I have learned is that being trendy isn't as important as feeling comfortable, confident, and beautiful in your outfit choices. My design teams and makeup artists all worked together to give me looks that were an extension of my personality. Every outfit prompted my friends to comment 'This is so you', and that was my mission all along."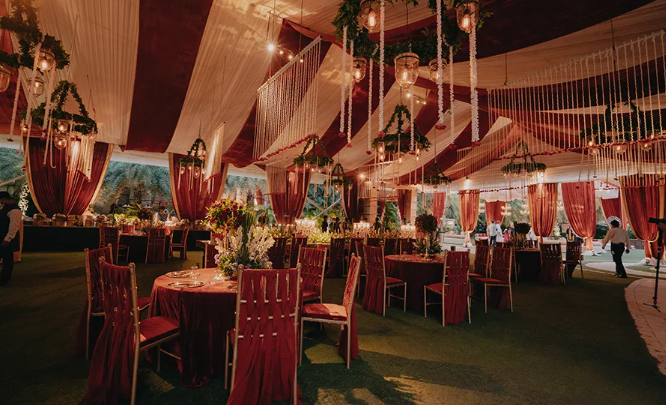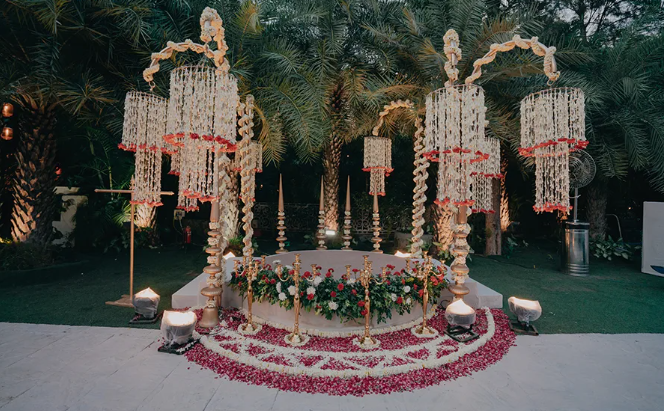 Unique Details
Over all else, Shikha wanted her wedding to be filled with personal details, expressions of love and emotional connections, so instead of grandeur and OTT extravaganza, she focused on making every moment as special as it could be. For her bridesmaids, she curated Trunk Boxes with FRIENDS-themed cookies that said "The One Where Chicky Gets Married" and "She Found Her Lobster", and a custom hand painted saree for the Haldi function along with personal notes. She didn't leave her bridesmen behind either, as they all received individual notes as well, with customized initial cufflinks to wear with their tuxedos on the Cocktail night. The adorable baby squad got customized night suits!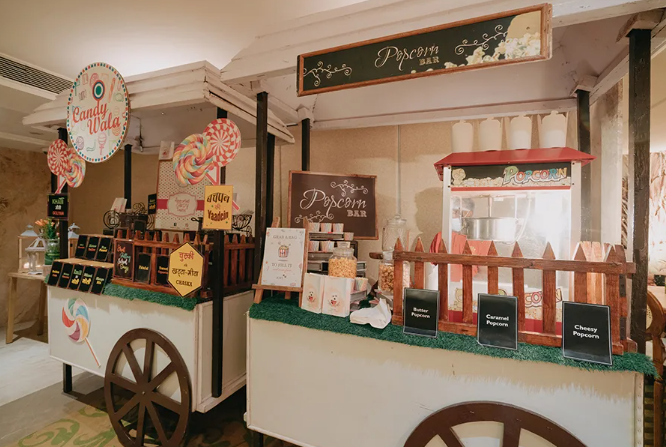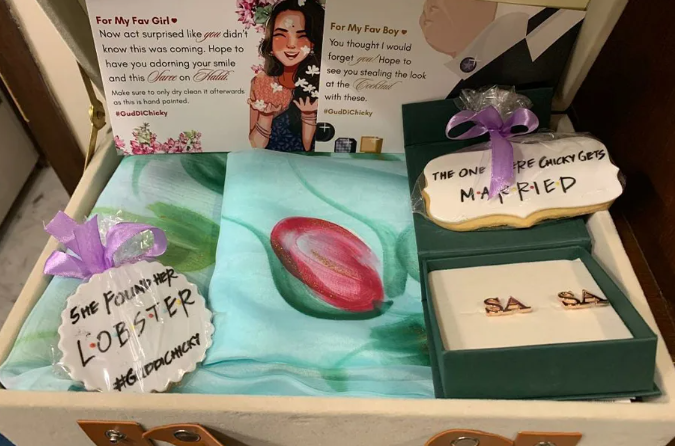 Wedding Functions
Mehndi
The festivities kicked off with a laidback mehndi soiree with boho-chic decor and tons of fun activities. The walls were lined with carts like a Flavored Pop Corn Bar, a desi Banta Bar, and a 90's Candy Station for a nod to the nostalgia of childhood. Customized straws were handed out to help all those who were getting their hands painted with henna, while a custom goodie bag from their fur baby Joey saying "Thank You For Celebrating My Humans" made for a heartwarming addition. The occasion was filled with laughter and music, but it was a surprise performance from the moms that stole the show. The bride and groom both wore breezy blue outfits, and Shikha rocked her minimalistic style with simple jewelry and makeup done by her best friend!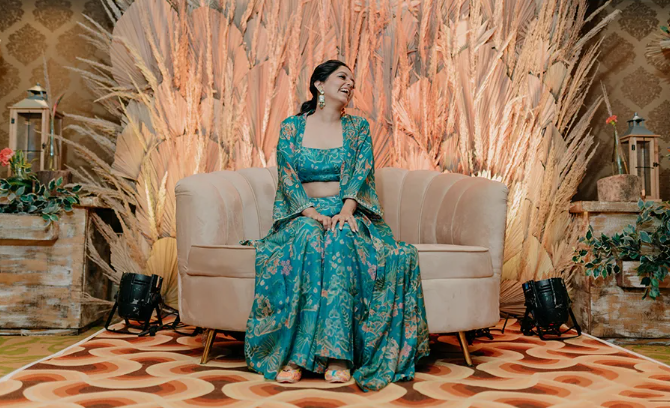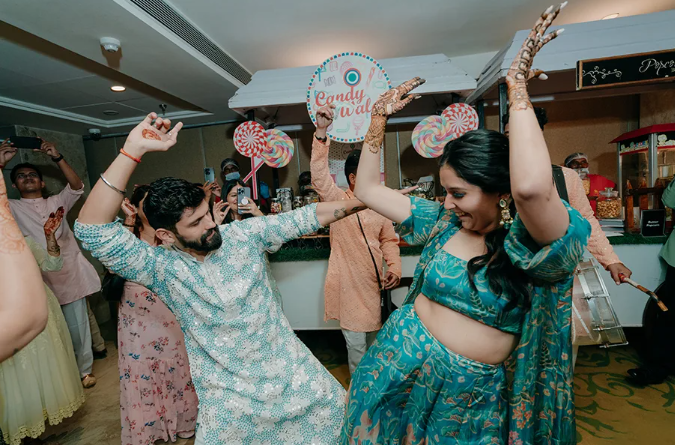 Haldi
The next day dawned with a lively haldi soiree with a minimal yet stunning decor of flowers, bubbles, a detox bar, and more. The bride looked radiant in her natural beauty as she posed in floral jewelry and a beautiful yellow hand-painted saree with her squad, all of who were pretty pastel shades of the same. The couple looked blissfully in love as their loved ones smothered them with haldi paste and a shower of marigold petals.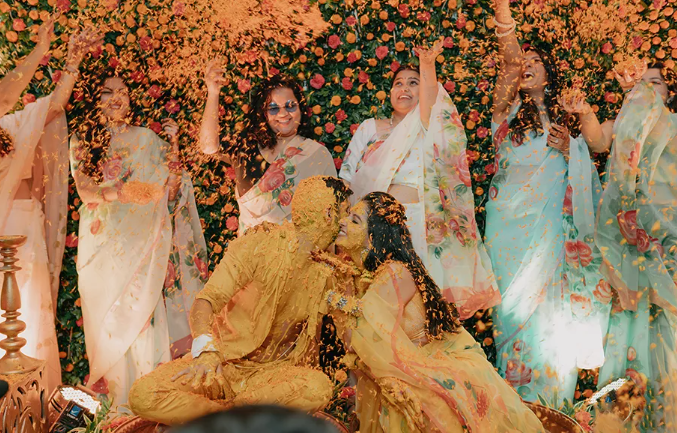 Wedding and Reception
Replete with the rich yet elegant decor of flowers, drapes, and lamps in a traditional palette of red, white, and gold, the outdoor wedding was as royal as can be. Flower petal bowls, string canopies of jasmine and roses, bells at the mandap, and more added to the tranquil setting. Dressed in ensembles of ivory, the bride and groom awed their guests with their regal entries, the groom arriving in a baraat with his sheathed sword, and the bride walking in with her family through a tunnel of swords. Joey the puppy of course made his appearance in his custom sherwani and stole everyone's hearts. Performed with musical phere, the nuptials cast a wave of emotion over the crowd.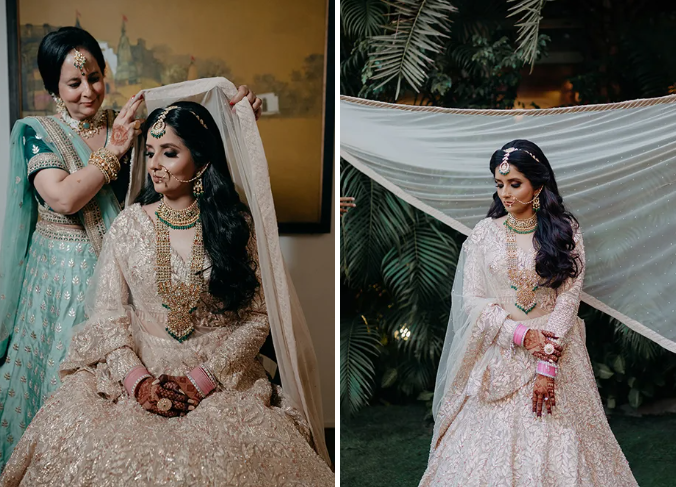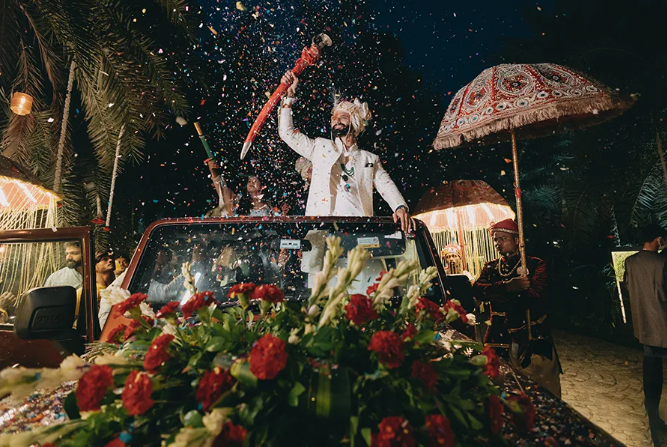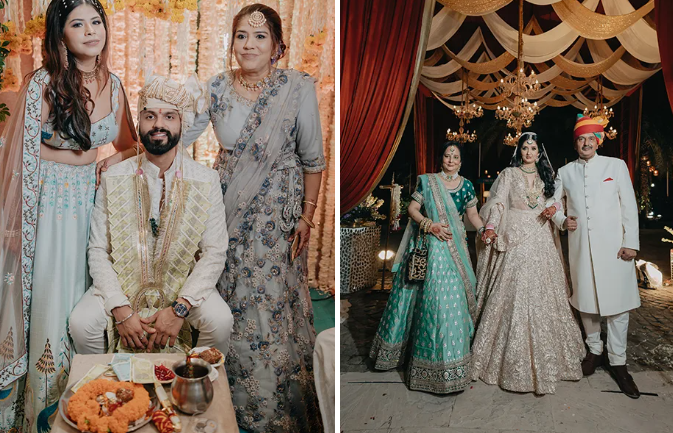 For the Reception, Shikha and Aayush made their entry as a married couple to pyros and sparklers with great panache, followed by a night of melodious Sufi music. Floral wristbands, tambourines, and another slipper basket added unique personal touches. The festivities came to a glorious end with music and merriment to toast their new life.
The Wedding Makers
Venues: Veda Farms and Banquets (Cocktail), Amaanta Farms (Wedding)
Wedding Planning and Management: Baraati Inc
Bride's Outfits: Seema Gujral (Cocktail), Anita Dongre (Mehndi), Seema Gujral (Wedding), Esha Koul Official (AfterParty)
Floral Jewellery: Florenza
Makeup: S P Eastland (Cocktail), Pooja Khurana Makeovers (Wedding)
Hair: Santosh Pokharel (Cocktail), Archana Rautela (Wedding)
Bartenders: Elixir Bar Solutions
Catering: Food Inc by Varun Tuli
Paan: The Paan Company
Choreography: Dance Era
DJ: DJ Prashant (Mehndi), DJ Ishy (Cocktail), DJ Prashant (Haldi), DJ Ajay Nautiyal (Sufi Night Reception)
Entertainment: Plan My Show, The Raag Project (Cocktail), Raagini (Cocktail), Percussionist Bobby Pathak (Cocktail), Pallavi Babbarwal and Band (Haldi), Himanshu Sharma (Wedding), Bismil Ki Mehfil (Sufi Night Reception)
Photography and Videography: Camlition Production
Contacts for any kind of Coverage@adeventmedia:-
join us on Facebook for other news. You can follow us on Twitter, & also Subscribe our youtube channel.