Page 3
Kam Mattu-Lourenço and João Lourenco, Dubai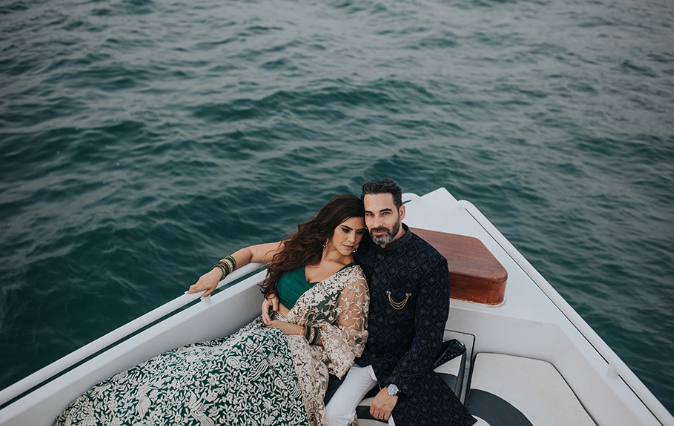 Courtesy By – Wedding Sutra
Be it a close-knit haldi, a laidback mehndi or a cocktail party atop a yacht – this couple's cross-cultural wedding in Dubai is bookmark worthy with its exceptional decor.
Kam Mattu-Lourenço and João Lourenco's wedding in the golden city of Dubai was glamourous yet serene. Filled with vivid hues and fun-filled moments, their wedding was planned by WeddingSutra Favorite – Designer Events Inc, who with their creativity and perception planned a seamless celebration of Kam and João's love.
How They Met
On an evening in 2018, in a conscious effort of trying to meet someone, Kam came across João's profile on an online dating platform. The conversation got rolling and they finally met after exchanging several emails. After a lukewarm first date, the couple gave love a second chance and decided to go on another. And,the rest, as they say, is history!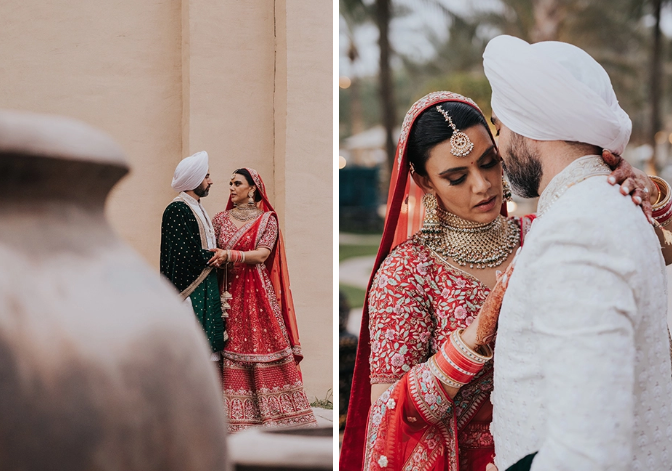 Wedding Planning
Helming the planning and design side of their beautiful wedding was Designer Events Inc. who at every step of the way was with the couple as they took a leap into an exciting future. Kaveri Vij from Designer Events Inc. shares, "The entire wedding entourage flew in from different parts of the world. Co-planned by Tales Weddings, orchestrating the union for us was a very personalised process as we took a deep dive into the couple's story and understood their tastes. We also designed the haldi and mehndi where we added dashes of desi splendour with a team that effectively sourced the decor materials and blooms."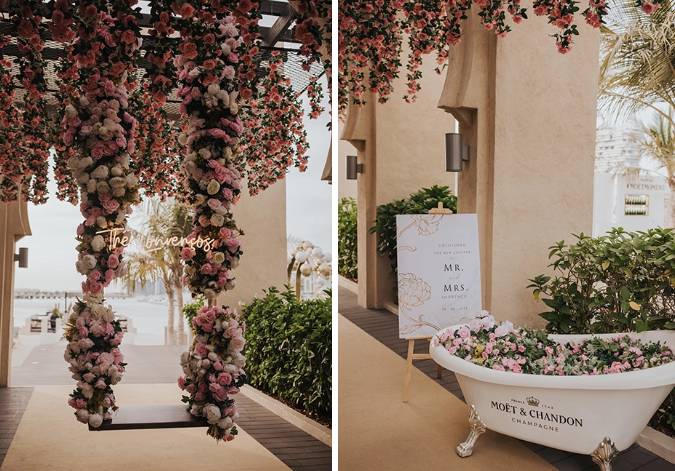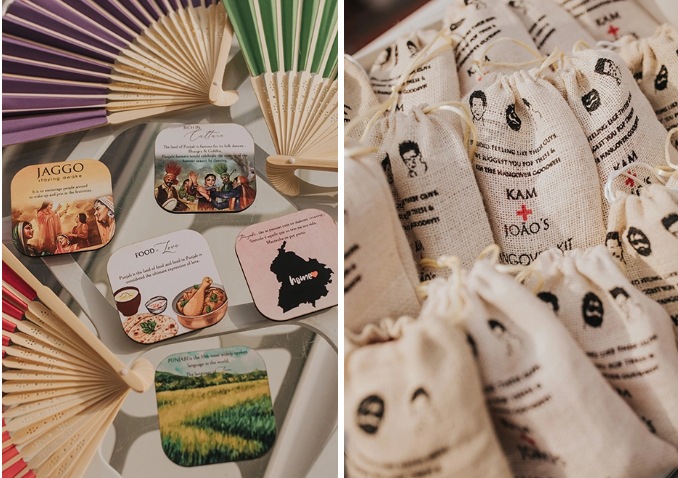 Weddings Functions
Haldi
The wedding celebrations that spanned five days kicked off with a fun-filled home-based haldi ceremony. Brimming with sunny yellow marigolds, mogra blossoms and quirky miniature elephants, the decor looked beautiful against the skyline of Dubai which was clearly visible from Kam and João's home.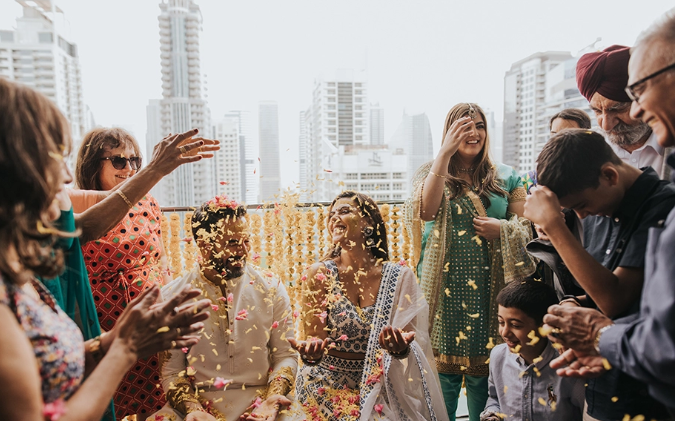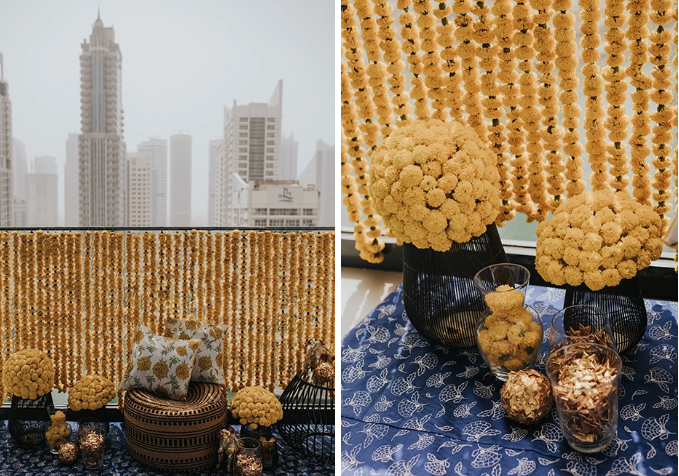 Mehndi
Kam's mehndi party called for casual vibes where she and her girlfriends made the most of their time together. With yellow and purple flowers paired with artisanal props, the mehndi decor was charmingly vintage.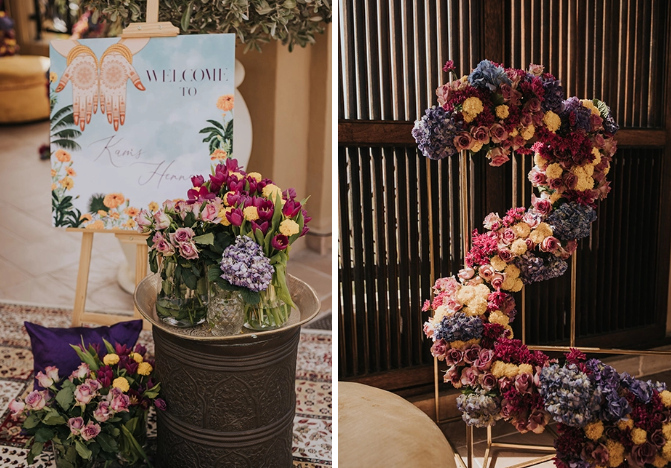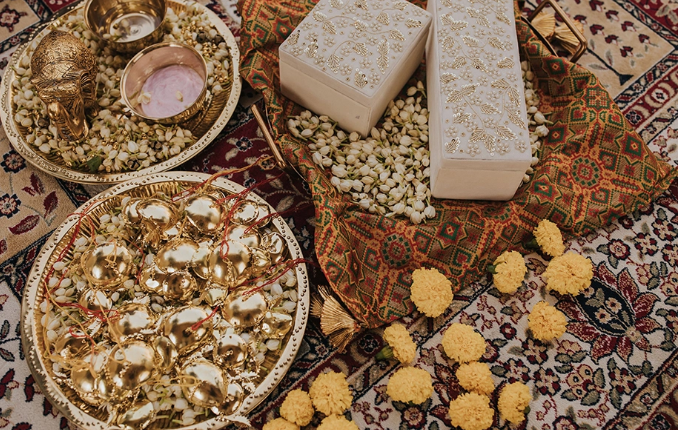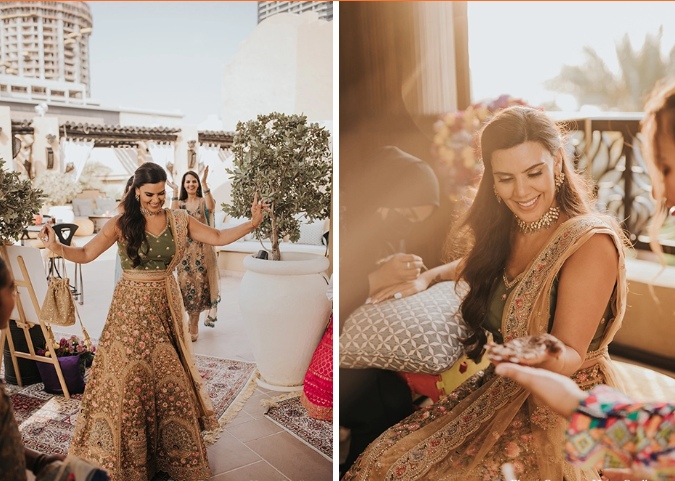 Jaago and Cocktail
For the jaago and cocktail, the couple decided to go glam and party under the stars atop a yacht. Luxurious, glitzy and utterly dreamy, the duo had a gala time as they danced to their favourite tunes, sipped on lip-smacking drinks and quenched their eyes on the beauty of the sea that surrounded them.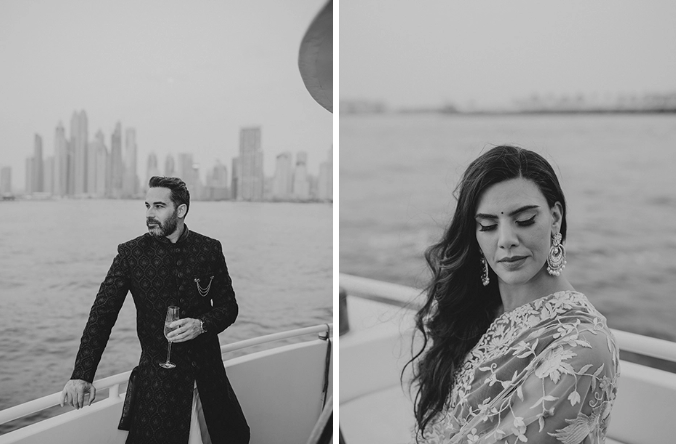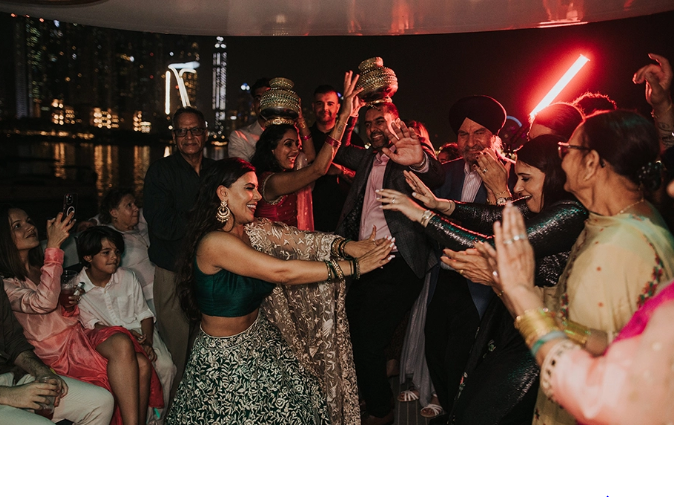 Wedding
Defying the barriers of age, the couple tied the knot at the age of forty. Akshay Chopra from Designer Events shares "Their love broke societal stereotypes". For them, their union was all about getting the timing right rather than adhering to the rules set by society that dictate one should get married by a certain age. Their beautiful Sikh wedding ceremony emanated a sense of serenity. Simply decorated with pastel blooms and an aisle lined with white pillar candles their big day looked like something out of a storybook with its sheer joy and romance! Kaveri shares, "The wedding was a beautiful amalgamation of cultures, traditions, ceremonies, celebrations and most authentically – a lot of love."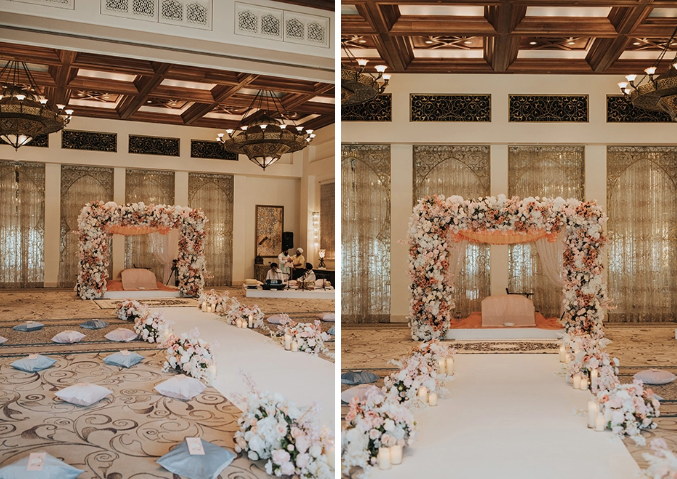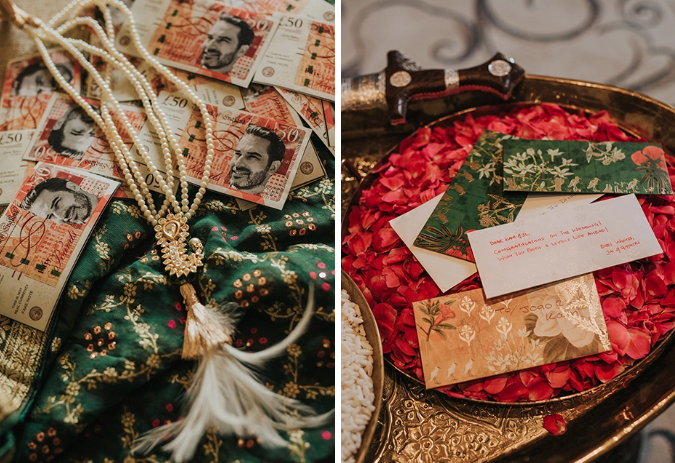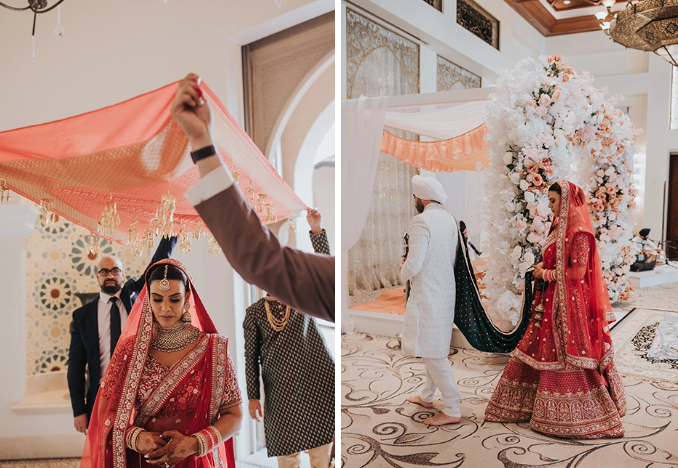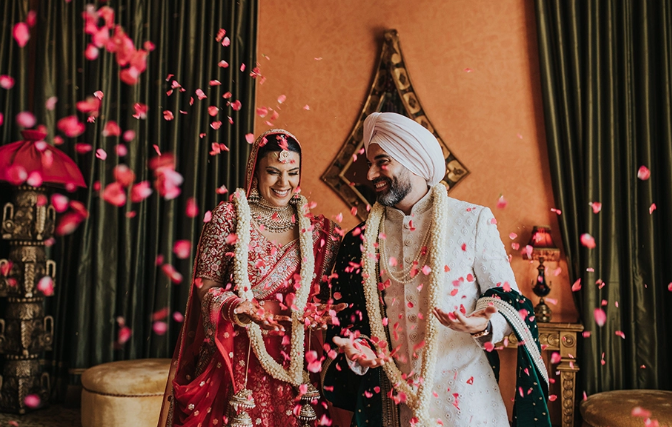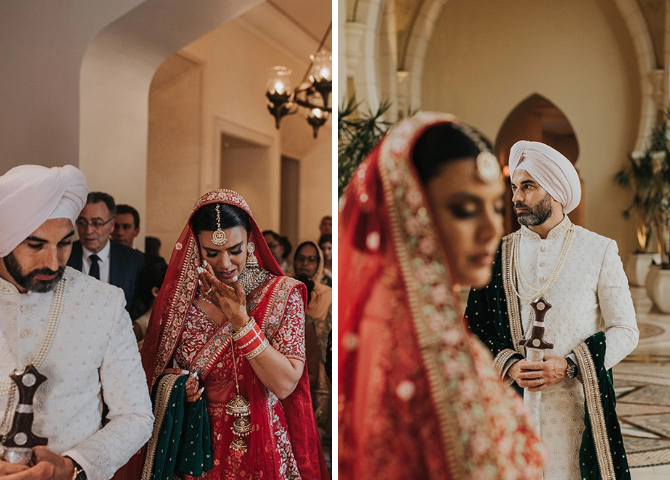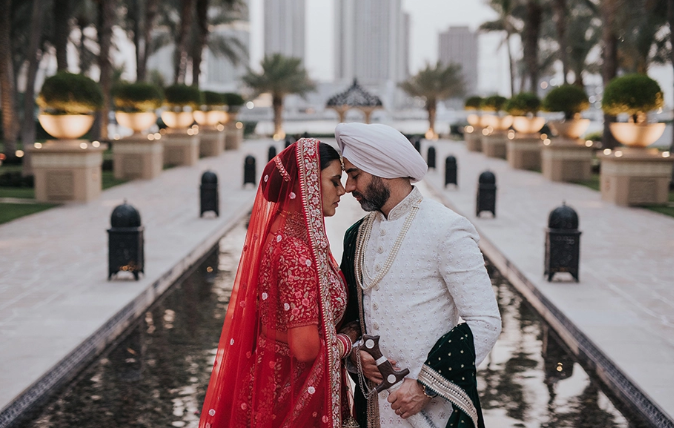 Reception
Hosted against the backdrop of Dubai's sleek skyline, the reception party was peppered with gold and silver balloons, a plethora of white and pink roses and, of course, lots of champagne at the Moët Lounge! To kick off the party, the couple cut a cake by the pier and then went on to enjoy the heartfelt toast that their friends dedicated to them.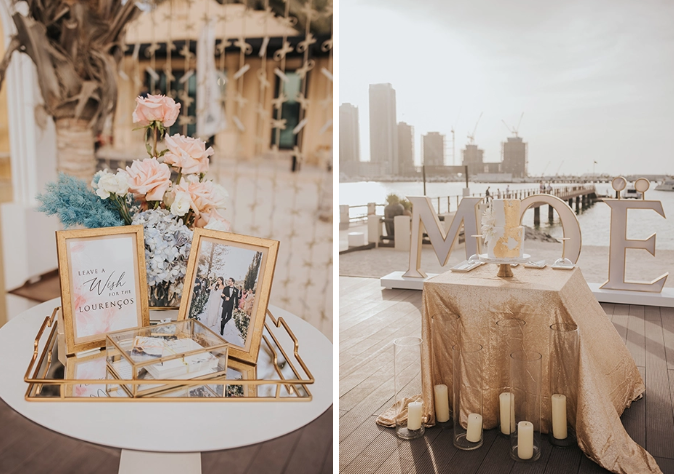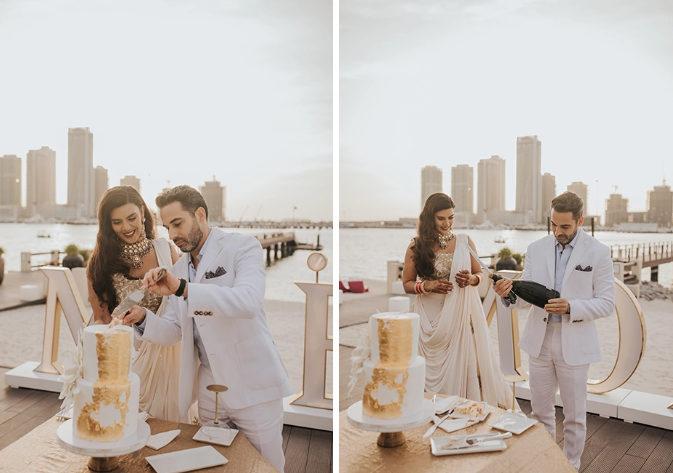 The Wedding Makers
Venue: One & Only Royal Mirage Resort, Dubai
Wedding Planner: Designer Events Inc., Tales Weddings
Décor: Designer Events Inc., (Haldi, Mehndi, Jaago and Cocktail), Soffis (Wedding, Reception)
Jewellery: Raabta by Rahul
Makeup: Nina Ubhi – Dubai Makeup Artist
Hairstyling: Sameer Ansari
Mehndi: Henna by Haaria
Entertainment: Pure Bhangra (Wedding Baraat)
DJ: DJ Gunjan Sharma (Jaago and Cocktail)
Cake: Cupkino
Photography: Hugo Coelho
Videography: Hugo Sousa Films
किसी भी प्रकार के कवरेज के लिए संपर्क AdeventMedia: 9336666601
अन्य खबरों के लिए हमसे फेसबुक पर जुड़ें।
आप हमें ट्विटर पर फ़ॉलो कर सकते हैं.
हमारे यूट्यूब चैनल को भी सब्सक्राइब कर सकते हैं।