Page 3
Tazeen Khatib and Mehmood Gheewala, The St. Regis Mumbai
Courtesy By – Wedding Sutra
Inspired by sunny Sicilian shades- this couple's haldi celebration took the off-beat path by combining blue and yellow hues.
Elegant with a touch of glamour, Tazeen Khatib, a designer's wedding with Mehmood Gheewala, a human resources professional in Mumbai was an absolute stunner. Planned by WeddingSutra Favorite – Centre Point Events, this union flaunted a variety of unique themes and was a beautiful reflection of their rich culture.
Wedding Planning
Nikhil Murarka, the founder of Centre Point Events shares, "The Gheewalas are one of the most prominent families in Mumbai being the country's leading HR Consultant in Gulf countries. So, it was a given that their wedding had to be flawless. For their celebrations, we booked over 150 rooms at the venue and got them a good deal while doing so."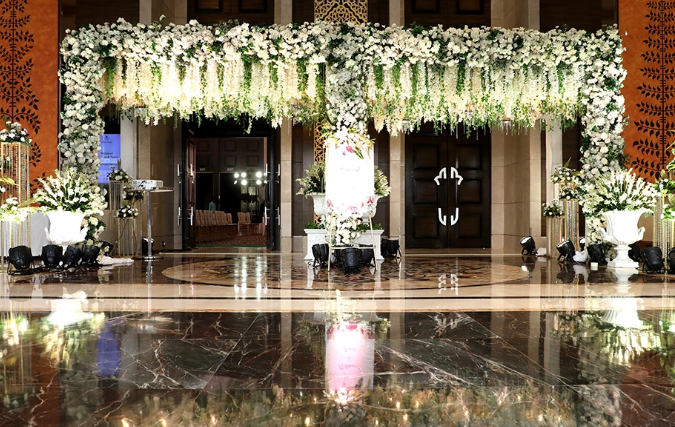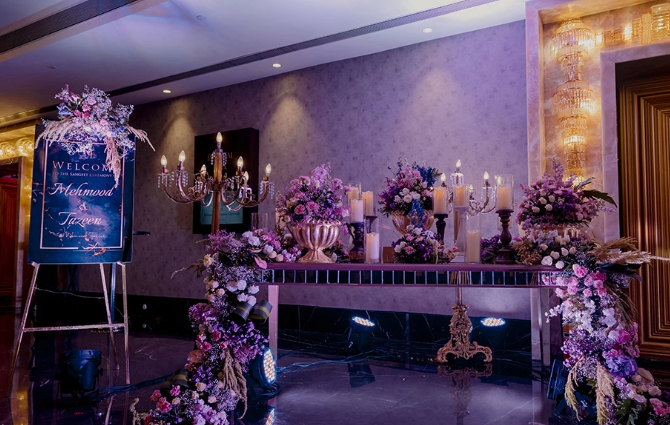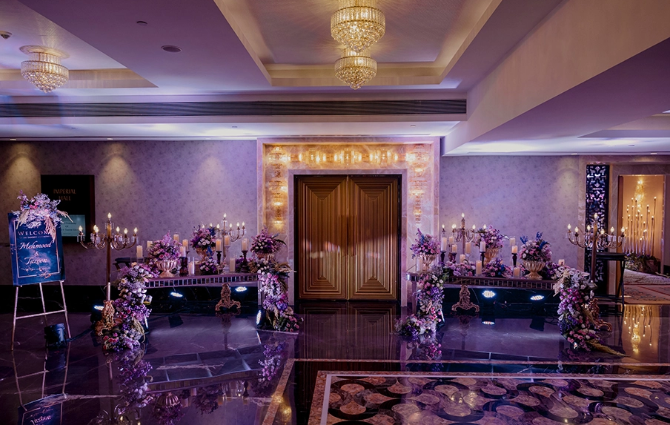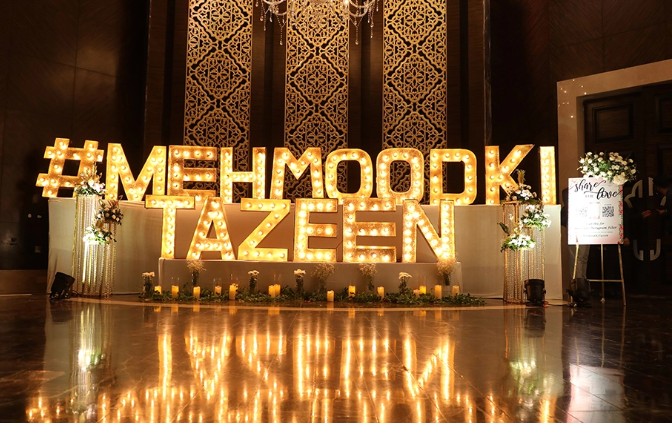 Weddings Functions
Haldi
Nikhil shares, "Inspired by the old school Italian blues and yellows, transformed the ballroom into a Sicilian villa. A mix of the Italian marble tile texture painted blue pots and tie-dye linen made for a unique sight for the Haldi seating, with the sunflowers lending their natural beauty to the space. And of course, we added a touch of Bollywood with entry gidda dances from both the bride and the groom. The dhol crew's presence made for a truly celebratory event."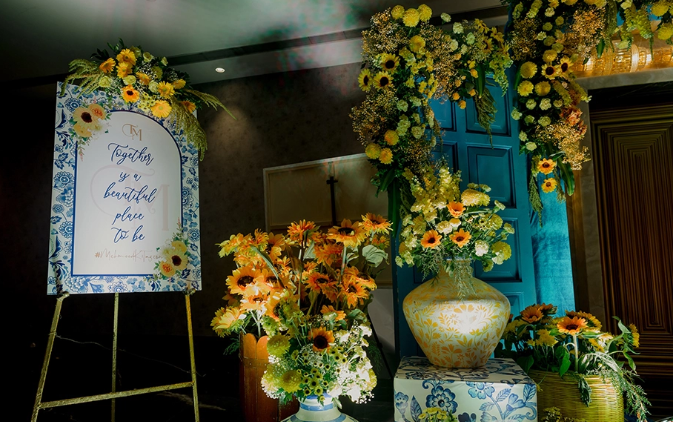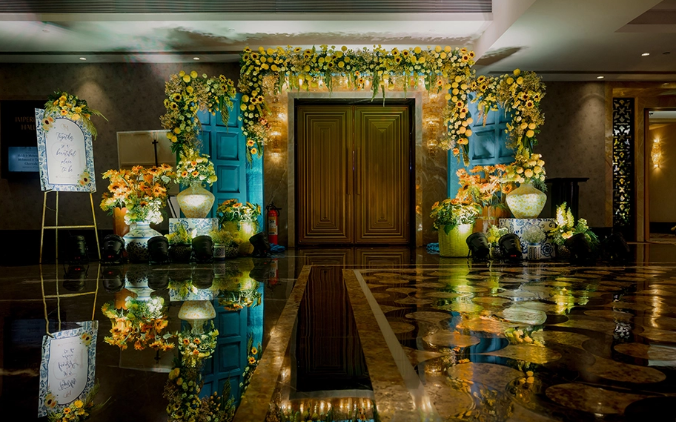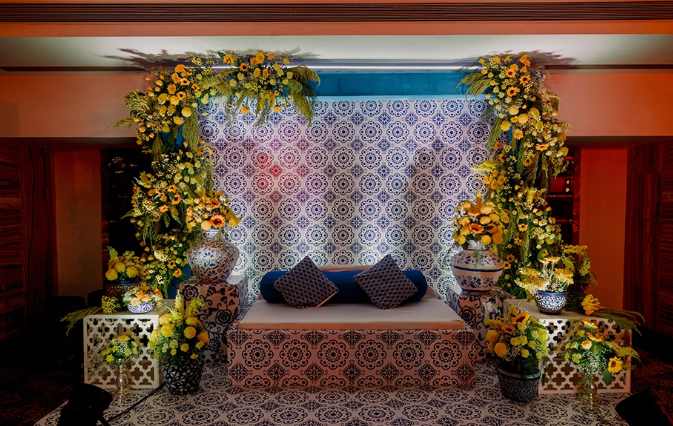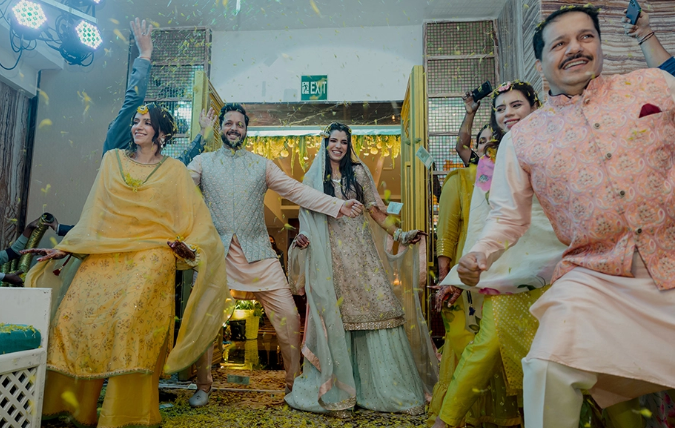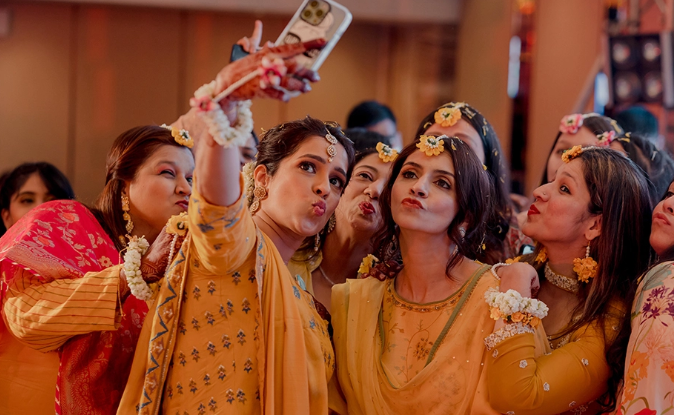 Sangeet and After Party
Nikhil shares, "The Sangeet featured an interesting mix of decor elements that complemented each other beautifully. Minimal floral arrangements accentuated with candles and fairy lights gave a romantic feel to the whole evening. The lounge lighting and chandeliers made for some striking visuals. The entertainment included the making and reveal of the magic painting and the 360-degree video jockey setup was also a big hit amongst the guests, with instant editing and sharing."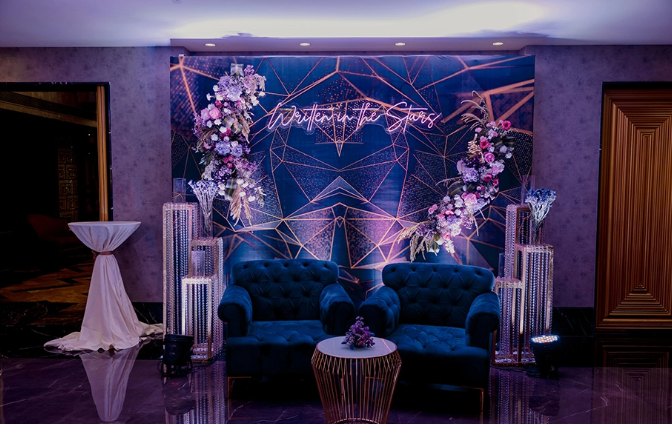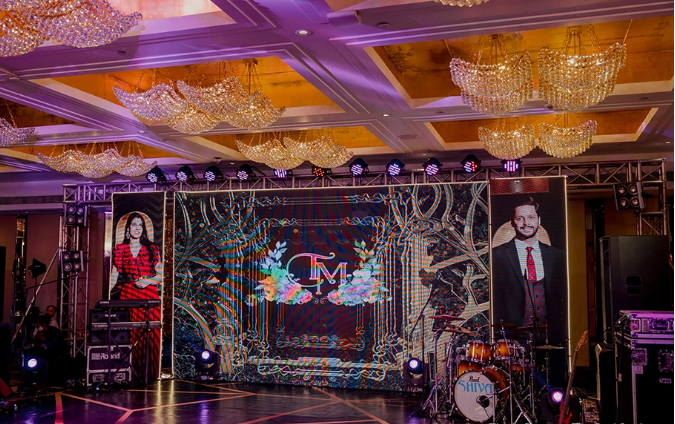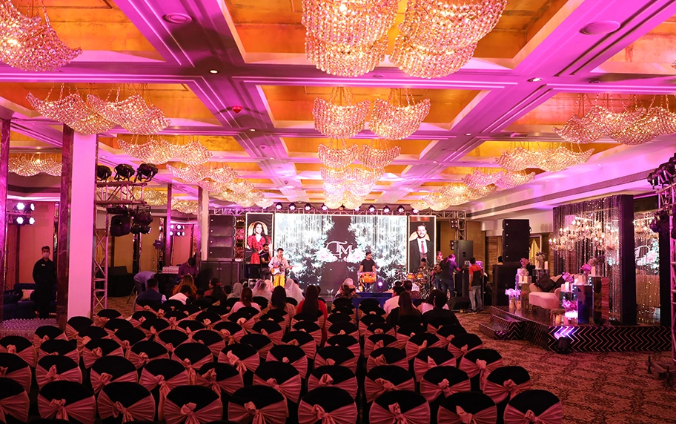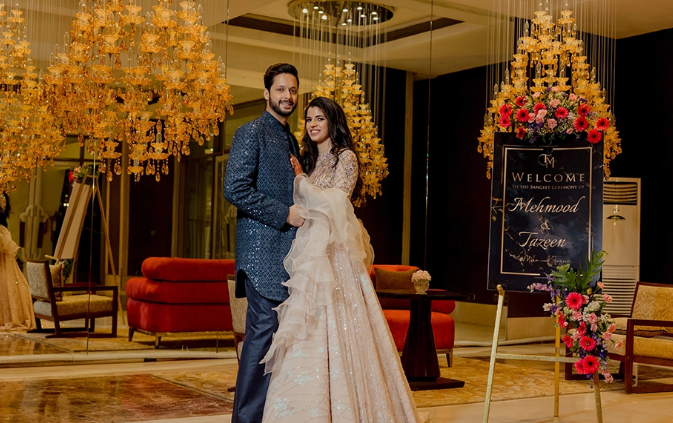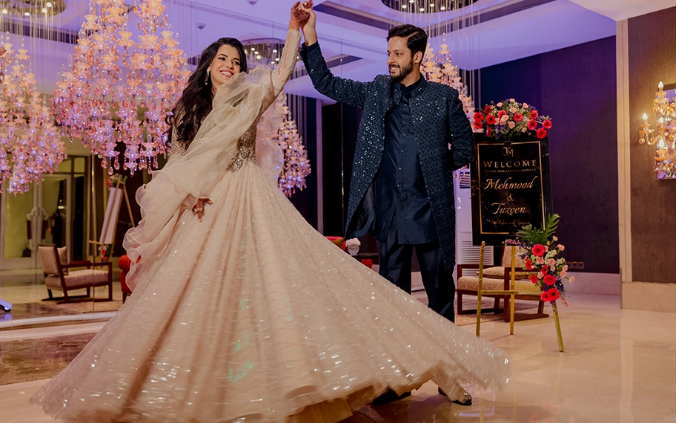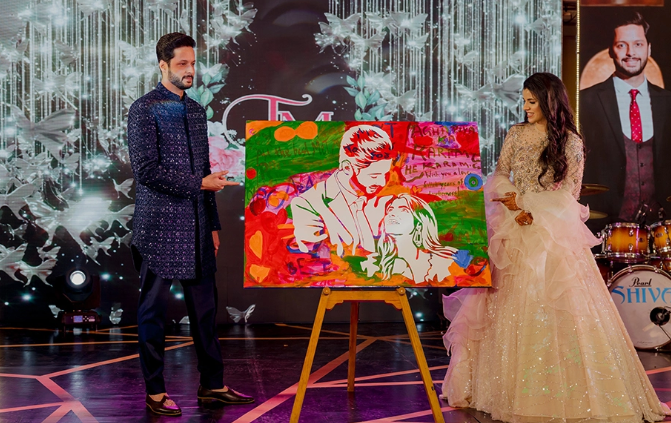 Walima and Reception
A visual treat in white, gold and green – the wedding reception was a memorable affair. The floral garden pathway leading to the venue was created using white and green flower arrangements that were perfectly complemented by chandelier lighting. The entrance to the wedding hall was highlighted with hanging floral artwork.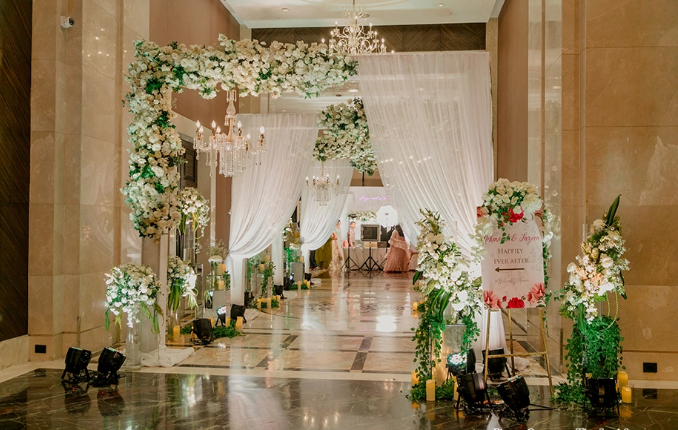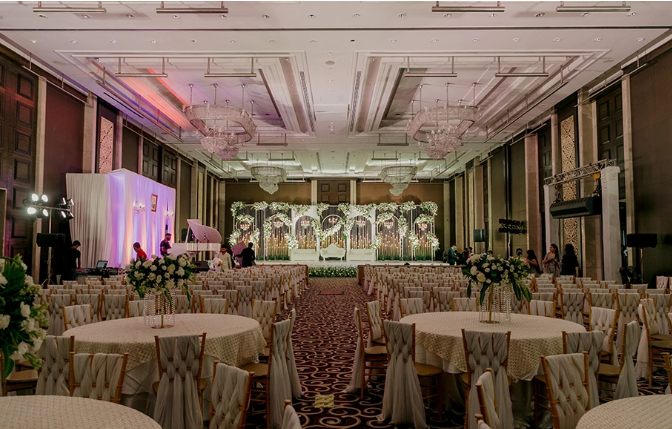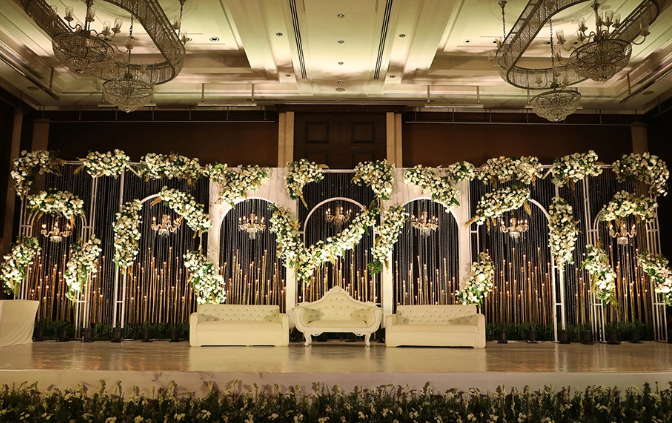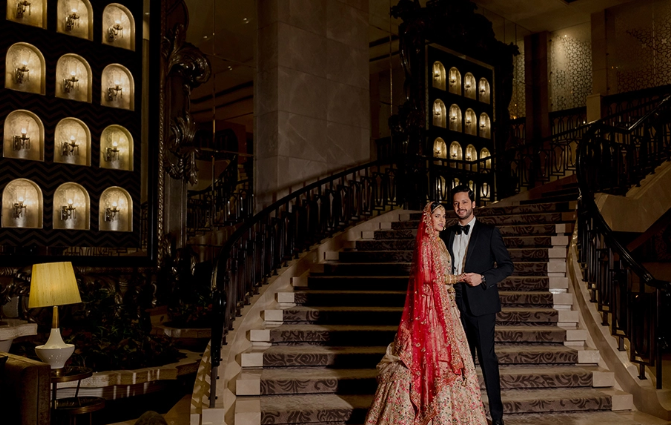 The Wedding Makers
Venues: The St. Regis Mumbai
Wedding Planner: Centre Point Events
Décor: National Decorators
Entertainment: Juggy Sandhu (Sangeet After Party), DJ Sunny (Sangeet After Party)
Photography: The Soul Stories